Third National Consultation on Role of State and Non-State Sector in Effective Implementation of Sustainable Development Goal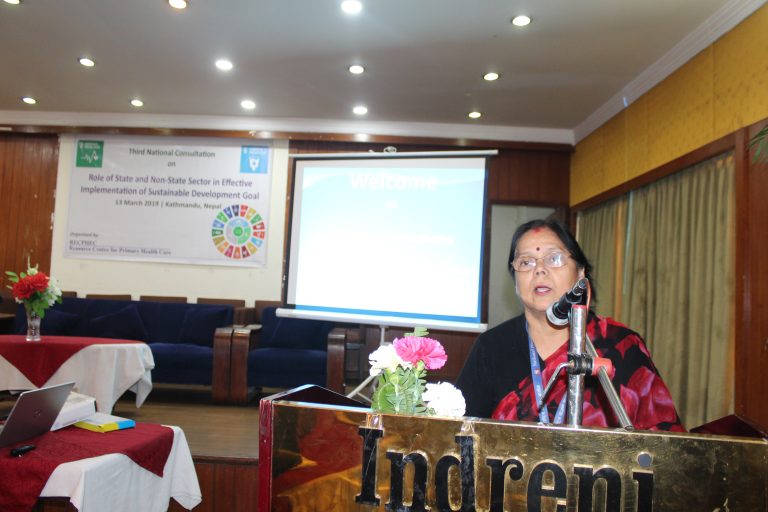 To enlighten the various roles of national, provincial and local government in addressing SDG 3 and 6, RECPHEC organizeम the third national consultative meeting in March 13, 2019 with a view of bringing representatives of both state and non state sectors in holding substantial and meaningful discussion to highlight the issues.
Objectives:
1. To explore the present status of Government effort in new Federal System
2. To identify the role of NGOs at local, provincial and national level to complement the state initiative
3. To explore the possibilities of partnership with INGOs
The meeting was initiated by key note presentations on SDG 3 and SDG 6 from different stakeholders including National Planning Commission, concerned Ministries, WHO, NGO, INGO and Civil Societies followed by open forum for discussion. And it was participated by representatives from government, NGOs, INGOs, Civil Societies and Media.
There has been concerted effort in making the globe a just equitable society enjoying "People's Right to live". For this the United Nations and its member countries came with Millennium Development Goals (MDGs) for 15 years which started in year 2000. The MDG goals addressed eight goals on different development dimension which included poverty alleviation, gender equality, health and environmental sustainability. The MDGs set foundation for Sustainable Development Goals (SDGs) to be achieved by 2030.
The UN conference of June 2012 in Rio de Janeiro discussed about SDGs followed by the formulation of Working Group on 19 July 2014. The intergovernmental negotiations on Post 2015 development agenda began in January 2015 and concluded in August 2015. The final document with the title "Transforming the world: the 2030 agenda for Sustainable Development" was adapted at the UN summit in September 2015 with the commitment to resolve to free human race from poverty. The 17 SDGs and 169 targets demonstrate the scale and challenge of the new universal agenda and goals to be achieved by 2030.
Nepal has recently joined the list of federal states with the adoption of federal structure of governance as envisaged in the new Constitution of Nepal. The new federal system has provided opportunity to local, provincial and federal governments to plan, implement, and monitor the significant national goals respectively including SDG goals. Within federal system, the health sector functional analysis of federal, provincial and local government has divided responsibilities. Similarly the Constitution of Nepal clearly addresses right to health as fundamental rights of people especially that every citizen shall have the right to free health services from the State, and that every citizen shall have the right to access to clean drinking water and sanitation. Thus, responsibilities of each government play a vital role in addressing and improving goals related to health and water and sanitation.
Out of 17 SDGs, RECPHEC has been initiating to draw the attention of state and non- state sectors on goal 3 and 6 which focuses on "Ensuring healthy lives and promote well being of all at all ages" and "Ensuring availability and sustainable management of water and sanitation for all" through different program interventions. To realize these global goals these needs to be translated into national plans and programmes with the active involvement of state and non-state sectors. In this context, the first national consultation of non- state sectors was organized in March 2016 to orient and identify the role on non state sectors on the genesis of SDGs with special focus on Goal 3 and 6. The first consultation meeting gave orientation on SDGs and also gave insight about the need of putting continuous effort in realizing goals 3 and 6. The second consultation meeting which took place on December 2017 brought representatives of both state and non-state sectors in discussing roles and strengths of both sectors in addressing key issues related to both goals.
Outcome:
1. Better understanding of responsibilities of local, provincial and national government in executing, implementing and monitoring the goals.
2. Strengthened coordination between state, non state and civil societies in implementing the goals.