Community Outreach Program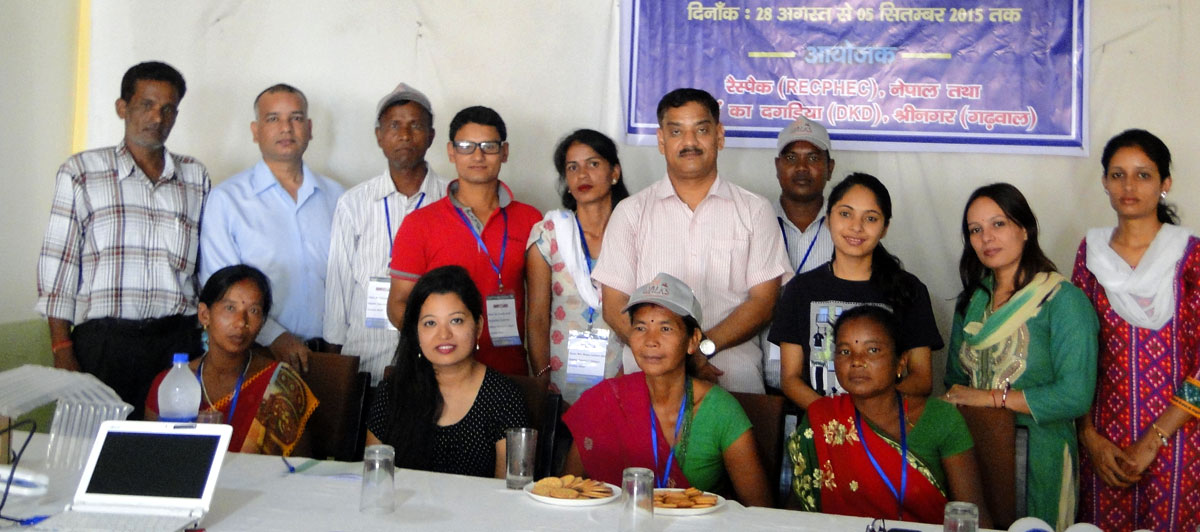 RECPHEC is continuing its community outreach program with the implementation of people centered development of activities. RECPHEC has been making combined efforts to address health issues through empowering the rural people. RECPHEC is working in such selected VDCs of Udayapur, Saptari and Gorkha. It is working in Basaha, Tapeswori & Thokshilla of Udayapur District &Kamalpur, Ghoganpur & Piprapuwa of Saptari District and Bungkot, Ghirung of Gorkha District. Its activities are targeted at improving access to basic services integration of prevention & promotion activities into the health sector & increase use & quality of basic health services. From this year, RECPHEC is initiating Farmers Field School (FFS) Program concept in different outreach program areas.
Health Awareness for Pregnant Women & New Born Babies: RECPHEC organized health awareness program for pregnant women & new born babies at Sardar Tole, Piprapurwa, Basaha, Siddhipur, Goghanpur, Tapeswar. Women were informed about monthly checkup for pregnant women & its health, nutrition& child care. Women gained knowledge on right to health of pregnant women & their new born babies get information about the facilities given by government which motivate pregnant women to visit health post for delivery a total of 102-women participated on this health awareness program.
Interaction Program with the Traditional Birth Attendants: The traditional birth attendants trained by RECPHEC were gathered for an interaction program on 29th January 2015to further strengthen their professional skill by giving them refresher training. The main objective is to re-establish the traditional birth attendants group like before & further mobilize them for pre and post natal services.
Family Toilet Program: RECPHEC has been working with the village development committee at the local level to construct family toilets to make Udayapur open defecation free (ODF)district. RECPHEC continued it partnership on this campaign with the DDC this year also. For this, RECPHEC supported DDC to construct family toilets for 161-household of ward number 6,7,9 of Rampur Thokshilla, Tapeswori-3, 4, Piprapuwa-6, with the support from the VDC.
Smokeless Stove Program: This year 87-smokeless stoves were installed at Piprapuwa, Tapeswar & Siddhipur VDCs of Saptari district to make smoke free kitchen environment.
Drinking Water Program: This year, RECPHEC provided 12-tubewells, 5 to households, 1-school, 5-Dalit community and 1 in club of Piprapuwa & Tapeswari VDC of Saptari district.
Interaction on Health Rights & Anti-Tobacco: Interaction program on health rights & anti tobacco was organized for the representatives of saving groups from 8th-11th February 2015 in 4 areas. The main objective of this program is to provide information on health rights issues to strengthen women community. Different issues such as health rights, health & sanitation, communicable diseases, second hand smoking, health of pregnant women& babies were discussed. Altogether 29 representatives from different groups participated in this interaction program.
Farmers Field School (FFS) Program
RECPHEC is continuing its community outreach program with the implementation of new levels of activities. From this year, RECPHEC is initiating Farmers Field School (FFS) Program concept in different outreach program areas. Ms. Reshma Shakya from RECPHEC learned about climate resilient agriculture & sustainability with focus on Farmers Field School (FFS) at DKD, India from August 2013-July 2014. After her return, RECPHEC initiated the program in its 3-outreach districts & it has shown significant results & positive feedback from farmers. Mr. Hari Singh, FK fellow from DKD came to Nepal who is an expert on this program which also helped to strengthen the ongoing program in the districts. RECPHEC organized the exposure trip for the Nepalese women farmers to DKD project areas for an exposure on similar work that would benefit farmers enhance their technical knowledge on livelihood & also enrich their skills on climate resilient agriculture & sustainability.
Area Visit: Visited TMUC program areas to observe & share farmer field school concept with the farmers group. The team headed by Mr. Hem Raj Dhakal and Mr. Narayan Paudel visited Makaipur Village-1, Bungkot VDC; Ghairung VDC-8; Dhade Village-8, Chepang Community-8 of Taklung VDC to understand the actual situation of the community & to share, collect the ideas to establish farmer field school in these selected VDCs. The team had an interaction with the community people from 29th-31st January 2015 to discuss on above issue. After the consultation & detail discussion with the villagers, following steps taken for the establishment of Farmer Field School: 1. Develop rain water harvesting tank which is one of the most important process 2. Integrated Pest Management (IPM) training is second step to train farmers 3. Develop demo site in the land provided by the farmer in each village & the production of the FFS session will benefit both land owner and farmers group.
Group Formation & Vegetable Seed Distribution Program: 22-members farmers group at Tapeshawari, 29-members group at Ghoganpur and 23-members at Siddhipur VDC of Saptari district were formed to start the farmer's field school process in these areas on 1st & 3rd January & from 9-11th March 2015. RECPHEC distributed different vegetable seeds (50 gm per packet) like cucumber, lady's finger, bitter gourd, chilly, pointed gourd, latte morsa, cabbage & cauliflower to 5-farmers group on March 2015. As a result Ms. Kalasi Devi, Piprapuwa earned Rs. 4000; Ms. Kalpana Devi, Tapeswari earned Rs. 2200; Mr. Hirdyanath, Tapeswari earned Rs. 2500 & Mr. Mahesh Chaudhari, Ghoganpur earned Rs. 3500
Integrated Pest Management (IPM) Training for Farmer Group: Integrated Pest Management program was initiated with a view to combat the negative effect of chemical pesticides while controlling the agriculture crop pests. This concept was developed in 1960s, whereas in Nepal it was practiced since 1997 only.Keeping in mind the importance of IPM training in FFS & to provide technical necessity and to develop well trained IPM facilitators,
RECPHEC organized 2-days IPM training to FFS groups from Basaha, Tapeswari, Goghanpur, Piprapuwa, Siddhipur& Ratapani from March 13-14th2015. The training was conducted by Mr. Hari Lal Chadhary, Technical Assistant, Agriculture Support Centre, Basaha from Government level and Ms. Bina Chaudhary, JTA from non-government organization SWOG in the presence of 29-farmers. The farmers were trained on the importance, process & techniques of soil testing, practical session on nursery management, preparing compost pit, manure identification of pest, preparing homemade pesticides &it's using method, farming method of true potato seeds, how to identify the qualitative seeds etc. After the session RECPHEC distributed the seeds of seasonable vegetables to the farmers. After the IPM training, 2-farmers Mr. Hridaya Narayan Chaudhary from Tapeswari & Ms. Durga Basnet from Siddhipur have adopted the SWI method for maize cultivation.
System of Wheat Intensification(SWI): System of Wheat Intensification (SWI) is a new wheat cultivation technique which demands to maintain plant to plant distance between lines of 8 cm & 20 cm. This kind of sowing with proper plant density allows for sufficient aeration, moisture, sunlight & nutrient availability leading to proper root system development from the early stage of crop growth. After sowing, it is necessary to maintain plant population by gap filling & thinning of crowded seedlings. Besides this, 2-3 times weeding and irrigation is required for best results. These practices are carried in the early stage of wheat growth as associated with the principle of intensive care. System of Wheat Intensification is one of the promising technologies to increase productivity which ultimately contributes to the household level food security of marginal farmers. The Women Farmer Beltar, Basaha group practiced on SWI method. Under this FFS session, 5-farmers adopted this method & have quantitatively & qualitatively better production in comparison with traditional method.
Farmer Support Centre & Seed Bank: As a supporting unit for FFS, RECPHEC have established Farmer Support Centre and Seed bank in Beltar Basaha. The main objective of this units are to meet the needs of small holder farmers, to improve their ability, increase & improve the supply of services through Government, NGOs, INGOs providing IEC materials & equipment. RECHEC provided different agriculture equipments like marker, spray machine, weeder machine, volvolator etc.
System of Rice Intensification (SRI): SRI is a combination of several practices those include changes in nursery management, time of transplanting, water & weed management. Its different way of cultivating rice crop though the fundamental practices remain more or less same like in the conventional method; it just emphasizes altering of certain agronomic practices of the conventional way of rice cultivation. All these new practices are together known as System of Rice Intensification (SRI). SRI is not a fixed package of technical specifications, but a system of production with four main components, soil fertility management, planting method, weed control & water (irrigation) management. Several field practices have been developed around these components.
After the great success in SWI method, this year the FFS was conducted on SRI method in which the farmers group introduced on new way of rice cultivation. 32-Farmers from Tapeswori, 23-farmers from Basaha, 23-farmers from Sidhipur, 22-farmers from Goghanpur were trained on SRI and they had been practicing on SRI method from June till end of November 2015. In this practiced method they utilized the new ways to transparent seedlings & manage water & fertilizers application. As a result SRI plants developed stronger roots & stalks & more tillers with higher yields & even better flavor qualities. It increases the paddy yields, better rice quality, reduction in irrigation water use & reduction in production cost.
Farmers Exposure Visit to Uttarakhand, India: RECPHEC Nepal & Daliyon Ka Dagriya(DKD), India arranged an exposure visit to India for the FFS farmer group under the leadership of Ms. Reshma Shakya, Outreach Program Officer. 5-women farmers from Udaypur & Saptari Districts were selected for this exposure visit on the basis of their performance and result shown during SWI session.
The purpose of this exposure visit was to show a working model & provide the information of the overall process of Farmer Field School under climate resilient agriculture, learn different scientific agro practices farming techniques that are being used by the DKD farmers group, supply chain of all the activities the groups undertook & share techniques they used. The Nepalese farmers also gained knowledge on selection of agriculture equipment.
During his involvement on FFS activities in Nepal we felt that if farmers of Nepal could get an exposure on similar work it would benefit farmers enhance their technical knowledge on livelihood & also enrich their skills on climate resilient agriculture & sustainability. Similarly, a linkage could also be established between the farmers of Uttrakhand, India & Nepal. Considering this, RECPHEC organized the exposure trip for the Nepalese farmer to DKD project areas. Furthermore, this would also complement follow up activities of FK participant Mr. Hari Singh.
During exposure visit to India, farmers got opportunity to interact with the DKD farmers group on ongoing development work focusing on climate resilient agriculture, visited Farmer Field School of DKD on Livelihoods of the Farmers, sharing program on scientific agro practices & farming techniques like mulberry cocoon farming, poultry farming and oregano farming, supply chain of activities the groups undertook & sharing program on techniques like revolving fund, self help group
This visit helped them to establish the market linkage, leading to increased productivity & income, capacity building of farmers through field visits on concept of integrated farming, climate change adaptation, good agriculture practices on soil, water & crop management & gain knowledge about the selection of various agricultural machinery &equipment &post harvest management.
Stitching Training Program: RECPHEC in association with Laliguras Mahila Bahuudhasiya Sahakari Sanstha organized 3-months stitching training program at Basaha. 60-women from participated in this training program. 31-women completed the stitching training program of Ghoganpur & Piprapurwa VDCs.
Community Newsletter Kosheli: Total of 1000-copies of 25th issue of Kosheli was published & distributed. The bulletin covers the accomplished planned activities of RECPHEC's & information on different diseases, seasonal cultivation & other matters.