Earthquake: Unprecedented Devastation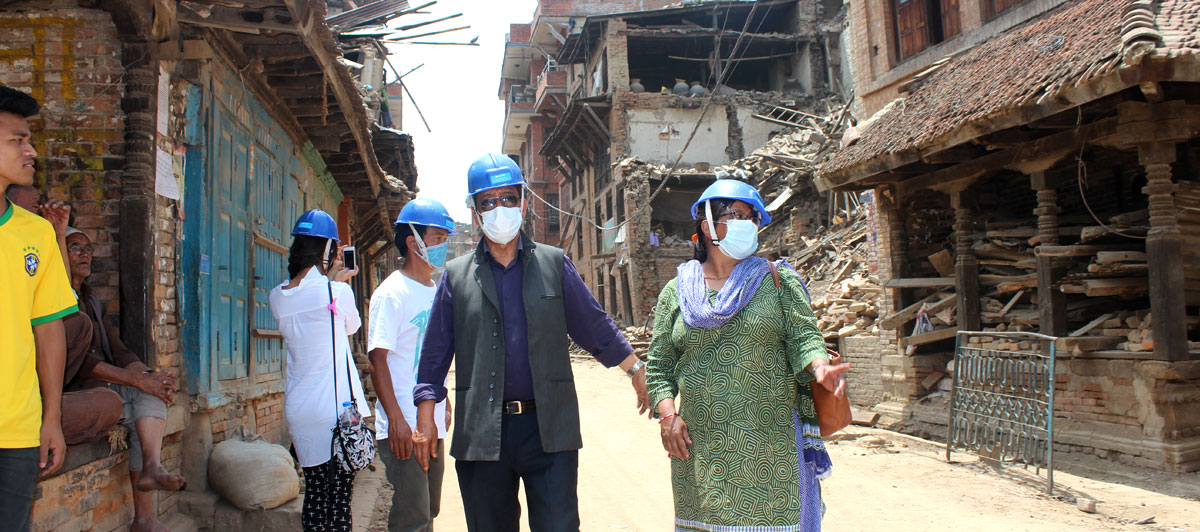 A strong 7.8 earthquake hit Nepal with the epicenter in Barpak, Gorkha on 25th April 2015 which is about 180 km northwest of Kathmandu, followed by more than 493-aftershocks. Another huge 6.8 earthquake hit again on 12th May 2015. The earthquakes caused extensive damage on life, property, infrastructure, cultural heritage & the ambient natural environment of the country.
The earthquake also triggered an avalanche on Mount Everest, killing at least 19, making 25th April, 2015 the deadliest day on the mountain in history. Another huge avalanche in the Langtang valley, where locals & foreigners were reported killed & some are missing. As per government report, nearly 9,000 people have been killed, 22,000 injured over half a million houses fully or partially damaged & 3-million people rendered homeless with entire villages flattened, across many districts of the country. The number of houses damaged was 5,01,906& those partially damaged, 2,72,232. Further, the quakes also damaged nearly 30,000-public & private classrooms (about 8,000-schools) across 49-districts, & destroyed 1023-health centers. The number of livestock lost until 31th May was 54,411.Over 1000-public buildings have not been spared by the impacts of the devastation. Some of the monuments of immense historical, cultural & archaeological significance, that also include the World Heritages, have been badly damaged.
Disastrous events in very poor & politically paralyzed nations often become a long drawn chain of events, one disaster feeds into another for years. The after effects from the earthquake have effects on unrelated aspects, human trafficking, labor cost & availability, rental & property cost burdens, urbanization, private & public debt burdens, mental health, politics, tourism, as well as disease & healthcare system damages & disasters that come with the monsoon season.
A landslide on June 11th has claimed 53-lives meanwhile a glacial lake had burst in particularly hard hit Solukhumbhu district. With continued aftershocks, the country also had a continued risk of more landslides.
In the bitter fight for supplies, single women have had very little access to post-quakes relief supplies, where rapes & fear of rapes block material aid & healthcare services from reaching them, according a report by the Inter-party Women's Alliance. Additionally, the earthquake has hit certain minorities, Tibeto-Burman races were hardest hit as they tend to inhabit the higher slopes of mountains as opposed to the central valleys, and thus are harder to access, less educated & connected. Malnutrition in children, where 41% of children under 5 were stunted, 29% were underweight and 11% were emaciated according to UNICEF before the quake, has worsened considerably some 3-months after the quake according to a survey, with the most under nourished being Tamang & Chepang peoples.
Government declared 14 out of the 75-districts as crisis hit & another 17 badly affected. Nepal has not faced such a calamity of this scale for over 80-years. When the last great earthquake hit Nepal in 1934, there was hardly any modern building or road, school or motorized vehicle. The scale of devastation caused by the earthquake is inconceivable, as it has not only cost huge loss of human lives & destruction of material properties; it has also undermined the hard-earned development achievements. People who had just crossed the poverty line may fall back into the absolute poverty. Our development achievements including the MDGs could suffer a setback & our plan to graduate from the LDC status may face the similar challenge.
Devastation caused by the earthquake will upset our high aspirations for swifter economic progress. Some of Nepal's impressive gains in the social arena are likely to stall. Furthermore, a disaster of this magnitude not only draws attention to seismic fault lines, but also social fissures, which in Nepal takes different form of entrenched vulnerabilities for men & women through inequities in income, assets & station.
The challenges that Nepal faces are daunting. However, Nepalese, resilient as they are, could emerge out of this crisis as a nation that is more unified than ever. There is no choice for us but to rebuild. With support from friends, well-wishers & development partners, the country can rebuild better & stronger, utilizing the hard-won democratic space for citizens' participation & their ingenuity.