Information & Documentation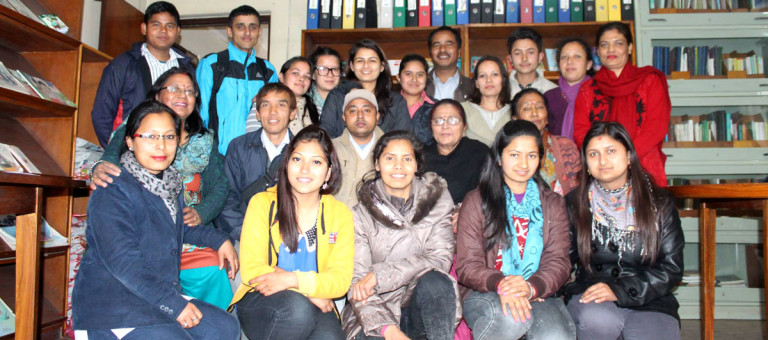 Digitalization of traditional library or Resource Centre has taken a high speed in development & has played a key role in building a global information society. Digital libraries also highlight the various features of the Resource Centre. RECPHEC has also up-grated Resource Centre in digitalization & started providing information via www.elibrary-recphec.org.np for e-library & online cataloging available at  http://nepaknol.net/recphec/library. To solve problem, strengthen network & for new technology we organized different trainings & workshops. Resource Centre has many tasks as providing reliable information to needy users, interaction programs, training to enhance knowledge of librarian, technical support etc.
Maintain/Update Resource Centre: 60-new monographs are collected &documents were accessed & process. For cataloguing we have started online catalog using PMB software. Non-book materials as newsletters, IEC materials, paper clippings were enter in RS program, which can access online. The 150-external & internal users & 4200 online users visited RS program.
Audio Video Editing Training: Audio video editing training was organized on 2nd March 2015 for the targeted trainees who had participated in earlier training program. 10-trainees presented their project after post training.
Interaction Program of Digitalization: Different programs were conducted to strengthen the network members of Resource Centre to reach the target users. RECPHEC organized an interaction program on digitalization on 18thFebruary& 5thOctober at RECPHEC to disseminate of our services & programs including e-library. Total of 48-participants participated in this program representing from different organization.
National Workshop on Digital Information Management in Nepal: Most of the libraries are transferring their system in digitalization there were many problems within libraries in digitalization management & it felt to discussed in wider group thus, RECPHEC organized a national seminar titled "National workshop on digital information management in Nepal" on 3rdApril 2015.65-participants represented from different libraries government, library & information professionals, non-government organizations' activist, including health information professionals, Government representatives & media participated & highlighted the role of information & communication technology (ICT) & existing system & practices of digital library in health organizations, to deliver the extent of information rights for the consumer in health sector & the role of government on digitalization process in case of Nepal.
Mr. Shanta Lal Mulmi highlighted the need of the health information & the role of the library & information professionals to disseminate health related information among the health professionals, general public & various government & non-government organizations. He also highlighted the need of networking among the health related organizations to disseminate the information and resource sharing to the stakeholders. On the occasion, Dr. Chhatra Amatya, Mr. Mukti Khanal also expressed their views.
On the technical session, Prof. Dr. Mohan Raj Pradhan presented on the topic 'Digital libraries and open source software'.
Mrs. Chandra Kiran Shrestha presented on 'Present status of digitalization of health libraries in Nepal'. Mr.Yadab Chandra Niraula presented a paper on 'The role of digitization from government perspective: A case of Nepal'. Mr. Ashesh Acharya presented 'The role of community libraries disseminating health information'. Mr. Suresh Acharya presented a paper on 'Health right: Consumer right'.
The workshop was concluded agreed by to share the information using similar software program for library automation and digitalization. It was felt for low cost, uniformity & updated digitalization the participant's opinioned better to use common open source software programs. Government has acted many ICT related Acts, Rules, and directives linking to the public service delivery & good governance. Though there is still lack of infrastructure such as internet access, slow connectivity. This seminar can recommend to the government to make such policies so that internet cost can be reduced or nearly free provided, used of similar software, linkage with academic libraries and network between health professionals
8th Library Day: The library day is being celebrated Nationwide since 2008 to mark the historical day when the decree waspromulgated on Bhadra 15, 1869 B. S. The main objective of the celebration is to foster reading habit, advocate the role and importance of libraries and information centers throughout the country & to help for creating knowledge based society. A main organizing committee was formed under the chairmanship of Mr. Bishwa Prakash Pandit, Ministry of Education to celebrate 8th Library Day event & decided to celebrate the library day throughout the week from 26th August-1stSeptember. Chief guest Honorable Minister of Education, Mrs. Chitra Lekha Yadav inaugurated the program on September 1, 2015 with the theme of "Love books and develop libraries". As a member of main organizing committee RECPHEC also contributed to celebrate and success the program& actively participated organizing different activities to celebrate Library Day. RECPHEC disseminated the importance of the library day to its 57-districts network in to conduct various activities to celebrate the 8th national library day.
Health Right and Tobacco Control Center, Saptari organized blood donation program in District HospitalRajbiraj & conducted poem competition based on the main slogan of the 8th library day. 19-students participated in the competition.
Health Right and Tobacco Control Center, Gorkha & Tulashi Meher Unesco Club organized poem competition based on the main slogan of the 8th library day. 18-school children participated from 9- schools.
Ms Chandra Kiran Shrestha shared on music therapy to senior citizen at Kuleswor Community Library, Kathmandu on August 26. The program was organized to celebrate library day event.
Nepal Library Association: The In-charge of IDU Ms. Chandra Kiran Shrestha is elected as Executive Treasure of Nepal Library Association for 3 years (2015-2018). The election was taken place on June 30, 2015 (2072/2/30) at Kathmandu Valley Public Library, Kathmandu.
Participation: Sub-regional seminar in cooperation with Nepal Library and Information Consortium (NeLIC) entitled "Enabling Universal Access and Preservation of Knowledge through Libraries: Copyright Matters" is held in Kathmandu, Nepal from 3rd-4th September 2015. The seminar was supported by UNESCO participation program and Electronic Information for Libraries (EIFL).80-participants from Nepal, Maldives, Myanmar & Kyrgyzstan actively participated in this seminar. There was good participation of the blind groups also. Key speakers from Ireland, USA, India& Kyrgyzstan explained about the copyright law and its effect & exception to the library & explained about need of Marrakesh Treaty for the print disabled person. Copyright Registrar of Nepal also highlighted the provision of copyright law exception for the library & archives according to Copyright Act of Nepal.
Earthquake Effect: Most of the libraries of Nepal are damaged by the earthquake. The major damaged libraries were Nepal National Library (NNL), TUCL, Central Law Library and Kaiser Library. Earthquake also hit our Resource Centre; most of the book stacks were moved from their place & damaged some stacks, tables, electronic goods. Fortunately we don't have to bear a huge lost as our resources were safe only some electronic goods were damaged.Though the earthquake made unsafe to us many libraries started their services as soon as possible. We also re-arranged the book stacks, rooms within 10-days and started to provide services.
As call upon by Nepal National Library our team also contributed to package the books; which were packaged in 5000 sacks to move in safe place. Similarly, The Unit also part of the team to distribute hygienic kit in Gorkha, Ghairung VDC.
Training on Basic Management of Resource Centre/Library: RECPHEC conducted basic resource centre/library management training to the district Health Right & Tobacco Control network partners from September 6th-11th 2015 in Kathmandu. 22-participants participated on the training from 15-districts. The main objectives is to develop skills and strengthen and update existing resource centre/library at community or districts and to prepare & motivate to establish & able to manage resource centre/library as community needs
Like other subject library also well managed, update and monitored. This training has somehow gain to realize accreditation of the person whom works in library and information service sector as "Right information in a right time to right person in a right way". This training also gave knowledge where to look up on information to trainees. It also gave an idea on marketing, public relation, expand network and to gain individual knowledge. The trainees found very useful training and showed their enthusiasm to develop library.
Network/ Volunteer Program: After the earthquake to care post earthquake treatment and counseling Ms Chandra Kiran Shrestha also a part of Healing touch program, Nepal and provided to heal people and given training in mind clearing to relief from their mental stress.
The Unit also provided on the job training program to Mr.Samiul Hassan Sajib from WBB, Bangladesh FK volunteer exchange program fellow. He is learning on the process of digitalization of Information and management toestablish resource center in his home country once he will back. He also assists in other activities of RECPHECas require.
The Library Assistant Ms. Shrijana Bhatt has joined DKD, India from August to establishment of Digital Library/Resource Centre at DKD. The resource centre will focus on Climate Change, Environment, Health and Agriculture. She will provide training to DKD staff using digital library and resource centre management.
Exhibition participation: To mark International Human Rights Day and 7th Human Rights National Magna Meet 2015 RECPHEC also participated in different activities. The IDU participated in exhibition on 11 December disseminating our publications and human rights documents. We also distributed free copies of health rights brochures, posters and newsletters, pamphlets etc.
Information &Documentation: Information on traditional system of medicine (TSM) were collected, documented& managed. As the Information & Documentation Unit is moving to digitalization we have given priority to soft copy. 11-documents were collected on TSM documents on medicinal plants Chandranighutu part 1 & 2 were added to our resource centre.