SEARO IPHU Course-PHM Nepal Training
RECPHEC
07 December, 2016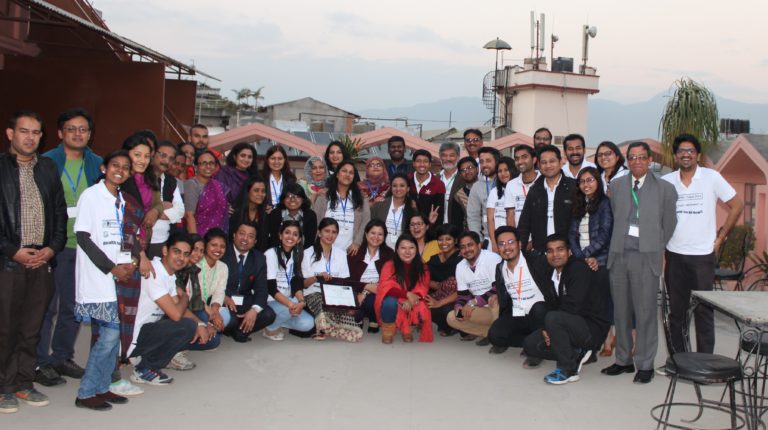 The Struggle for Health in South Asia – An Alternative Thinking for Solutions
22nd- 29th November, 2016, Kathmandu, Nepal
People's Health Movement (PHM) is a movement of grassroots health activists, civil society organizations and academic institutions from around the world to improve the "health for all".International People's Health University (IPHU) is PHM's main educational and research program. PHM-Nepal along with IPHU successfully conducted a short educational course to introduce alternative frameworks on public health on November 22-29, 2016 at Marshyangdi Hotel, Kathmandu, Nepal
Founding director of School of Public Health at University of the Western Cape, Prof. David Sanders along with other renowned professors and experienced health activists run this course, first of its kind ever held in Nepal.
Participants from Sri Lanka, Bangladesh, Pakistan, India and Nepal actively participated during the course. All together 41 participants (national and international) participated the training. It was 8 days long training facilitated by Dr. Amit Sengupta, PHM from India.
Trade & Health; Conflict & Social Transformation; Health workforce crises:situation, trends, migration and possible solutions; Primary Health Care systems and UHC:History, Evolution and Revitalization; Peoples Right to Health & Equity in Health; Globalization & Health; The Struggle for Health; Gender Approach to Health; Social Determinants of Health; Implementing primary health care necessitates integration of clinical care and public health; and finally Health Profession Education:Issues, Challenges & way forward were the presentations which were presented by different experts in the relevant sectors.
Not only the presentations were showered in the training period but also the field visit at Manamohan Memorial Community Hospital, Pharping flourished the training and made more vibrant course. And of course one day joint session with Public Services International (PSI) has increased the magnitude of the course.
As RECPHEC is the PHM Nepal Secretariat Office, the overall management was done from RECPHEC. The IOM Public Health Students contributed as volunteers for the training.