National Consultation on Promoting Ecocities in Nepal
RECPHEC
07 February, 2019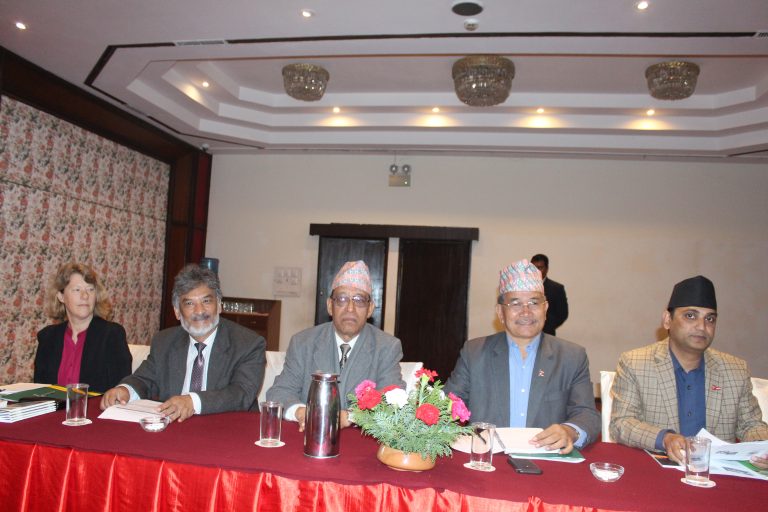 National Consultation on Promoting Ecocities in Nepal
Nepal is one of South Asian developing country with borders connecting India in east, west and south and China in North. Nepal is a country rich in ethnicity, culture and heritage. Nepalese history, diversity and culture, and its outstanding significance have been recognized by the inscription of seven groups of monuments in the Kathmandu Valley on the UNESCO World Heritage List.
Currently, Nepal is in the process of an unprecedented socio-political transition aimed at enhancing economic growth and prosperity after the culmination of the constitution drafting process through the historic constituent assembly held in 2015. The state restructuring process, involving transfer from unitary to federal structure, has gained momentum after completion of local, provincial and central level election. However, in the same year, on April 25, 2015, a major earthquake struck Nepal, causing thousands of human causalities and widespread destruction of building and infrastructure. This earthquake's impact on heritage places was extensive throughout the Kathmandu valley. The year 2015, bear a significant role in context of Nepal, as reached political benchmark as republican country whereas had to overcome unfortunate even of natural disaster.
Now, the constitution has envisioned the formation of the Federation, the State and the Local level. The country has been able to restructure into 753 local government and seven provincial governments. Kathmandu Valley is divided into three districts i.e Kathmandu, which has 11 municipalities, Lalitpur which has 3 municipalities and Bhaktapur which has 4 municipalities. Altogether there are 18 municipalities in Kathmandu Valley.
In context of Kathmandu valley, the city was build with ancient architecture and heritage, more likely as an eco friendly city. The city had many open spaces inform of courtyards, walking friendly infrastructure with many greenery in surrounding the area. This has been challenged by both earthquake (damaging most of historical monuments) and notion of political leaders toward making city smart with high rise, wide road infrastructure for vehicles. General understanding of people about smart city is with effective information and communication technology, basically promoting efficient world. The concept of smart city would go hand in hand along with concept of eco city. Newly elected Mayors of city are promoting smart city as one of key agenda but we believe that to achieve that goal, the city should be eco friendly too. The concept of Ecocity and smart city both together would appeal to public of all age and group. It would be a perfect mix of livable city at the end. In one hand people are looking for efficiency and effectiveness and on other hand they are equally fighting to preserve culture, heritage and social norms
It is also needed to be considering that with a rapidly growing majority of the population now living in urban cities, they have to face unprecedented social and environmental challenges. These have related challenges to human health, biodiversity and the bedrocks of life – food, water, and energy. The technological growth and use by urban people have resulted in many unhealthy practices, which the cities have failed to cope and address, physically, emotionally or even mentally. We should focus on sustainable approach that enhances life and environment together. Since, local government representatives are recently placed in offices, it is a right time to promote eco friendly city as need of people instead of smart city.
Considering all these factors, RECPHEC planned to be held "A National Consultation Program
On Promoting Ecocity in Nepal" on October 31, 2018 which also mark "World Cities Day".
The main purpose of this forum is to advocate for eco friendly city with the newly formed municipality representatives of all eighteen municipality of Kathmandu.
OBJECTIVE:
The main objective of this consultation workshop is to enhance the coordination between different stakeholders for the promote and initiate policy dialogues to ensure eco friendly city. Along with that, it also aim to;
i. Sensitize the issue of Eco friendly cities.
ii. Discuss on existing policies and condition in term of promoting Ecocity in Kathmandu Valley.
iii. Enhance coordination amongst all the stakeholders for the promotion of Ecocity.
A Key note presentation "Promoting Ecocities: International Experiences" was done by Ms. Kirstin Miller, Executive Director of Ecocitu Builders and Mr. Scott Allen, GIS Manager, Ecocity Builder.
It was followed by two presentations on "Eco-Smart Future for Town in the Bowl" and "Establishing Eco-communities: A Case Study of Lalitpur" from Prof. Dr Sudarshan Raj Tiwari, IOE and Mr. Pradeep Amatya, LMC respectively.
After this there was open forum which was facilitated by Prof. Dr. Sharad Onta, Chairperson, RECPEHC. All of the municipalities representatives shared their experiences, threats and opportunities to make their place Eco-friendly.
Dr. Onta acknowledged participation of the entire municipality representative and said that, the changes will not happen in one time a lot of time and dedication is required. But if we can consider ecological factor in planning process, it will help achieve sustainable development in our country. This forum is just a start. We should discuss these issues often and work in collaboration with each other. After Prof.Dr. Onta, Mr. Mulmi ended the program thanking all the participants and committed that in future, if any municipality require technical support then RECPHEC will always be ready to support and collaborate. It is also great news that all the municipalities are already on board on issue of air pollution and are working to reduce air pollution. Developing eco city will not just help reduce air pollution but other form of environment pollution and will enhance health of people. Along with that he also committed to take this agenda further in national level and continue the advocacy.
Way Forward:
1. RECPEHC would continuously coordinate with Eco city Builders to get their inputs and create opportunity in future endeavors.
2. RECPHEC would communicate with all the municipalities post this workshop to follow up on their present and action related to this topic.
3. If any municipality requests for technical support, then RECPHEC will provide technical assistance to the municipality.
4. RECPHEC will again coordinate with Lalitpur Municipality to promote Lalitpur as one the eco friendly city in Kathmandu.
5. RECPHEC will raise and discuss this agenda with honorable members of National Planning Commission.
6. RECPHEC will also advocate on this issue further in national level.
Schedule Title:
Schedule National Consultation on Promoting Eco cities in Nepal
Location :
October 31, 2018: Kathmandu
TIME PROGRAMME
9.00 AM to 9.30 AM Tea/ Coffee and Registration
9.30 AM to 9.45 AM Introduction of Participants
9.45 AM to 10.30 AM Objective of the Program & Opening Remarks
Mr. Shanta Lall Mulmi, Executive Director, RECPHEC
10.30 AM to 11.00 AM Opening Remark:
1. Mr. Chiri Babu Maharjan, Mayor, Lalitpur Metropolitan City (LMC)
2. Mr. Kalanidhi Devkota, Executive Director, Municipal Association of Nepal (MuAN)
11.00 AM to 12.00 PM A Key note presentation "Promoting Ecocities: International Experiences"
– Ms. Kirstin Miller, Executive Director, Eco city Builders
– Mr. Scott Allen, GIS Manager
12.00 PM to 12.30 PM Paper Presentation on "Eco-Smart Future for Town in the Bowl"
– Prof. Dr Sudarshan Raj Tiwari, IOE
12.30 PM to 1.00 PM Paper Presentation on "Managing Green & Sustainable Cities"
– Mr. Padma Sundar Joshi, UN-Habitat
1.00 PM to 2.00 PM Lunch Break
2.00 PM to 2.30 PM Paper presentation on "Establishing Eco-communities: A Case Study of Lalitpur"
– Mr. Pradeep Amatya, LMC
2.30 PM to 4.00 PM Open Forum: Initiatives of Municipality Representatives
Facilitator: – Dr. Sharad Onta, Chairperson, RECPHEC
4.00 PM to 4.30 PM Concluding Remarks