National Consultation on Role of CSOs in Effective Implementation of SDG Goal 11
RECPHEC
09 September, 2016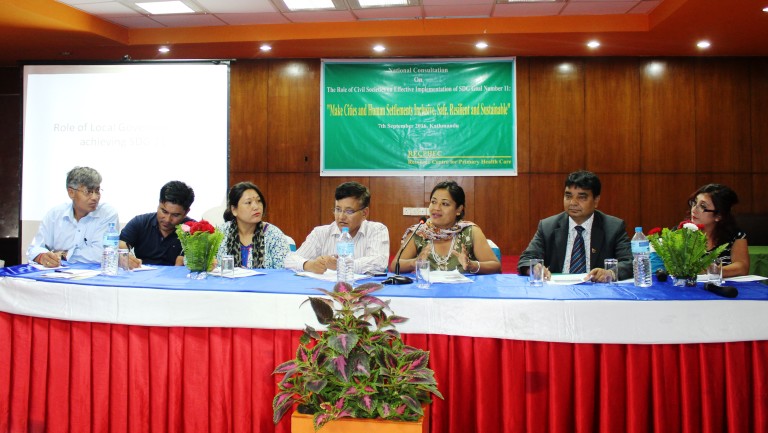 National Consultation
on
SGD Goal no. 11
Making Cities and Human Settlement Safe, Inclusive, Resilient and Sustainable
7th September 2016: Kathmandu
Background
There has been concerted effort in making the globe a just equitable society enjoying "Peoples Right to live". For this United Nations and its member Country came with Millennium Development Goal for 15 years which started in 2000 AD. This MDG has set foundation for Sustainable Development Goal to be achieved by 2030. The UN Conference of June 2012 in Rio Da Janeiro discussed about Sustainable Development followed by the formulation of Working Group on 19 July 2014. The Intergovernmental Negotiations on Post 2015 Development Agenda began in January 2015 and concluded in August 2015. The final document with the title "Transforming the World: the 2030 Agenda for Sustainable Development" has adopted at the UN Summit in September 2015 with the commitment to resolve to free human race from the tyranny of poverty. The 17 Sustainable Development Goals and 169 targets demonstrate the scale and ambition of this new universal agenda and these goals have to be achieved by 2030.
Out of all 17 SDGs, RECPHEC being a coordinator of Health Thematic group of Nepal Civil Society Forum would like to draw the attention of all the sector on Goal number 11 "Make Cities and Human Settlement Safe, Inclusive, Resilient and Sustainable".
Cities are hubs for ideas, commerce, culture and social development. The challenges cities face can be overcome in ways that allow them to continue to thrive and grow, while improving resources use and reducing pollution and poverty.
Besides its involvement on Goal No. 3: Ensure Healthy Lives and Promote Well-being for All at All Ages, RECPHEC is making utmost effort in addressing the development needs of urban settlement including ecological and environmental degradation, climate change, traffic congestion, disaster, indigenous culture and national heritage keeping Gender equity and social inclusion at the central stage of urban development. The 2030 Agenda for Social Development has become a guiding principal to address these issues at national, regional & global level. The civil society being one of the key players in this regard, a consultative meeting has been organized with the following objective.
1. To orient on the genesis of Sustainable Development Goals with special focus to Goal # 11: Making Cities and Human Settlement Safe, Inclusive, Resilient and Sustainable
2. To discuss the role of the government in line with National Policy and Constitutional provisions
3. To identify the role of National and International Non-Government Organization.
In the national consultation, 1. the Key Note presentation was done from UN Habitat by Mr. Padma Sundar Joshi, 2. Role of Local Governance in effective implementation of SDG Goal # 11 presentation was done from Kathmandu Metropolitan City Office by Ms. Shriju Pradhan and finally, 3. Role of NGOs in effective Implementation of SDG Goal #11 was done from CIUD by Mr. Puskar Shrestha. The program was participated by the key representatives of 5 main municipalities of Kathmandu Valley: Kathmandu, Lalitpur, Kirtipur, Thimi and Bhaktapur. Similarly, there were great participation of the experts in this sector, related stakeholders and media personnel.